The Dream Thieves (The Raven Cycle, #2)

by Maggie Stiefvater
Published by Scholastic Paperbacks on September 30, 2014
Pages: 437
Format: Paperback
Goodreads

Of THE RAVEN BOYS, ENTERTAINMENT WEEKLY wrote, "Maggie Stiefvater's can't-put-it-down paranormal adventure will leave you clamoring for book two." Now the second book is here, with the same wild imagination, dark romance, and heart-stopping twists that only Maggie Stiefvater can conjure.
I always have a very hard time writing reviews for sequels, because I like for all of my reviews to be uniform in their non-spoilery goodness. Have 99% of you already read this entire series? Probably. Do I want to keep it spoiler-free for the 1% who haven't? Yes. Especially with the advent of Stiefvater's new, Ronan-centric series coming out, I want to be sure my Raven Cycle reviews are fun and fresh without being life ruiners.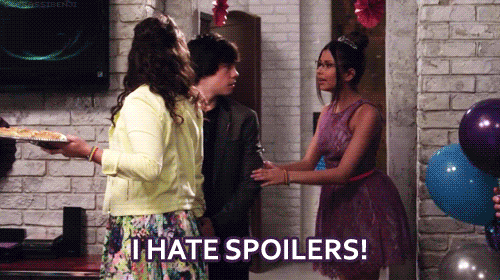 Rating: 
How I'd Describe This Book to a Friend
The Dream Thieves takes place pretty might right where we left The Raven Boys off – so there is no room or reason to worry about any plot developing like an old Polaroid stuffed into a drawer. The action you got in the last book is still here, and there are a few refreshers thrown in, just in case you forgot who was who or what was what.
I don't think there is any way you could read this book first, however – the Raven Cycle is a solidly "read these four books in order" sort of series, not like Sweet Valley High or a Baby-Sitters Club Super Special (why are these the first two examples I came up with? I don't know either). While the first book sort of focused on Gansey and Blue in turn with the rest of the cast sort of pirouetting around them, we get primarily Ronan's POV this time around. The Raven Boys spent its time judiciously building up Ronan and his family to be this brick house of a family – nothing gets in, nothing gets out, solid as a rock and free of emotion. So to get a look under the hood – so to speak, he'd love that metaphor – was a treat.
As far as the characters go, I definitely still see myself in Blue and I still absolutely adore her. Gansey has never been my favorite, and that has not changed. I think that Ronan and Adam have switched spots for me now, though – I like Ronan more, and Adam has pivoted from "protect this precious angel child" to "oh my god quit whining I understand why you're this way but I seriously need you to cut this crap out." Noah is my A #1 cinnamon roll buddy and I just want an entire book about Noah and Blue being buddy cops or something, I don't know. We stan a smudgy platonic friendship.
Also I am 99% sure that Chainsaw the raven is going to grow up and murder everyone who tries to come between these boys and what they want.
I'm almost totally joking, but not really. I want a Dany Targaryen from Game of Thrones "comes down from the heavens on the back of a giant raven" moment where Ronan throws an axe at someone and decapitates them. Is that really so much to ask for? It's what he'd want.
Also Kavinsky is there but who the hell cares?
The Bottom Line
If you enjoyed The Raven Boys, this is more of the same. But then again, if you enjoyed The Raven Boys, more of the same is exactly what you want.
The good news about The Dream Thieves is that it took less time to get into it than its predecessor did. The bad news is, that still took a substantial chunk of time to happen. I am hoping that books 3 and 4 unfurl rapidly and I don't get caught in that "OK where's the plot?" headache, but we'll see.
I have to put a book or two between this and the next because the pacing is so delightful and deliciously slow that I can't read too much Stiefvater back-to-back or I get anxious.
Basically this was second verse same as the first, only it had less of my favorites (Noah and Blue) and more of my less favorite (Gansey, barf). Needs more Chainsaw. Can't wait for book three.
"Blue was a fanciful, but sensible thing. Like a platypus, or one of those sandwiches that had been cut into circles for a fancy tea party."
"If you never saw the stars, candles were enough."
"Ronan's smile was sharp and hooked as one of the creature's claws. 'A sword is never a killer; it is a tool in the killer's hand'"