It seems like my new schtick is waiting until days into a month before I write a wrap-up post for the month prior. Is this for any particular reason? No. Do I know why I continue to do this? Nope. What I do know, though, is that I read 4 books in February – a lot of books for the shortest month of the year, and probably what contributed to my amazingly huge reading slump at the tail end of the month.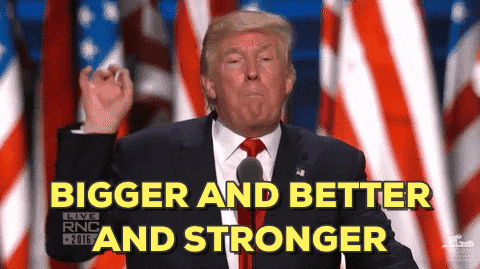 Our president discussing my reading slump that lasted from late February through almost mid-March.
Pages Read: 1,450 – an average of 362 per book
Average Rating: 4 stars right down the line
I had a good time with January! I read a book out of my comfort zone genres and surprised the crap out of myself by thoroughly enjoying it (Between Before and After), I enjoyed two sophomore books that typically would suffer from a "second book slump" (The Dream Thieves and The Vanishing Stair), and I read what many are already calling the thriller of the year (The Silent Patient).
I have stopped doing TBRs because I never stick to them and they just wind up making me feel bad about myself. I can say, though, that my slump ended last night when I read the first few pages of my next read and was instantly hooked.
I also plan on doing a post sometime this month in honor of my 30th birthday where I list a favorite book from each year published since my birth! Cue me being mad that Matilda was published one year too early for me to use – damn it, Roald Dahl, you couldn't have waited until 1989? For me?
I hope everyone else's February was good, if not productive! What did you read? Link me to your wrap-ups below (since I'm sure you all already wrote them since I'm the slowest person ever when it comes to writing these).