I was searching for a Halloween book tag on twitter this morning, when I stumbled across one inspired by one of my most favorite Disney Channel original movies: Halloweentown! The 1998 OG that still takes up … a lot of free rent in my head, to be honest.
Here's what to do:
Mention the creator of the tag, Bookish Coffee Blog!
If you were tagged, mention who tagged you! (I wasn't tagged, but I stole this from BookDutchesses!)
Answer the questions!
Have fun!
Bonus: watch the movie while you answer the questions! (this will be in my mental queue for the weekend, I think, possibly, after the obvious Hocus Pocus viewing).
Halloween gives kids ideas about there being magic
Name a book that is full of magic
I haven't read much in the way of magic this year, if I'm honest – I have done a great job ramping up my consumption of gritty thrillers, because 2020 feels like a nonstop gritty thriller. That said! Magic for Liars absolutely killed it in this department, and I am thrilled to have read it. If Harry Potter were more realistic and 100% less problematic with added bits of boarding school drama … it would be this book. I haven't seen nearly enough love for it, and that's a damn shame.
Halloween is Cool!
Name one book from your October TBR
We might as well stick to the dark academia theme, huh? I have read 2 books so far this month that I can't even write a blog post about, because my summary would be me doing an empty gesture and going "well uhhhhhhhhhhhhhhhh" until you pivoted and walked slowly away from me. Catherine House is a college for gifted young adults who want to be … more. Nobody knows what they really do to their students for the 3 years they spend behind the gates deep, deep in the woods. This book was a trip and if I say another word about it, it'll ruin the experience. Just trust me when I say that if you love dark academia and a good boarding school book, this is a fun one.
Nobody Really Appreciates My Taste in Weird Stuff
Name your favorite underrated read
Ugh, The Astonishing Color of After, take my heart and step on it. The Astonishing Color of After is indeed a book about a young woman named Leah who loses her mother to suicide, but to say that is the summary is to do Leah's story a serious disservice. This is the story of Leah's father, a man struggling so desperately to maintain his ability to provide for his little family while his wife suffers from an unmentionable, overbearing sadness. This is the story of Leah's grandparents, her Waipo and Waigong, their good friend Feng and Leah's best friend, Axel. Perhaps most importantly, though, this is the story of Leah's mother, Dory. We never meet Dory, but we feel as if we do through flashbacks and memories. Dory, a nickname for Dorothy – the name not just of Leah's mother, but my late, beloved grandmother – which means "gift of God." This book made me lose my shit, frankly, and nobody talks about it and I will never get over it.
The Cromwells are Powerful Witches, and It Took the Power of All of Them to Defeat the Evil
Name a powerful fictional family
I think I have to give this one to the Moore sisters, from Greer Hendricks and Sarah Pekkanen's 2020 novel, You Are Not Alone. The Moore sisters are two NYC socialites with a whole lot of power, and they are bad eggs, y'all. They have it all, and yet what they want is to sweep our main character Shay into their inner circle. In their orbit, Shay feels more powerful – she gets a makeover, a new job, even a romantic prospect. But things aren't always what they seem, and the Moore sisters want Shay for more than just her friendship. They have a coven of their own, and they are gonna get what they want come Hell or high water. The Moores' grasp reaches far across NYC, they have eyes everywhere, and they are some scary ladies.
Halloweentown was written about in a book, so maybe it's real, maybe it's not
Name your favorite nonfiction or historical fiction book
I … don't read nonfiction or historical fiction. You know what's really scary to me? nonfiction and historical fiction.
Mayor Kalabar wants revenge
Name a book that you thought you would enjoy but ended up not
I really wanted to love When No One Is Watching, unfortunately it didn't love me back. I can't really put into words why, either, is the frustrating part. It was a good book, but it didn't give me that WOW! everyone made it seem like it would. I am convinced that putting "a thriller" on the cover was the kiss of death for me, because this is the slowest burn of any thriller I've ever read. It's not a thriller, not really – it's realistic horror.
Instant Witch's Brew, Sometimes it Works, Sometimes it Doesn't
Name your favorite or least favorite book under 200 pages
I feel like this will be everyone's answer, but if it is, it's for good reason. Every Heart a Doorway is lush, magical, and damn delightful. Everyone should read it, honestly.
Time Works Differently in Halloweentown
Name a book that was so good it made time stop
The Chain was not so good it made time stop, per se, but I was so invested in what was going to happen that I could not physically put this book down.
Our protagonist is named Rachel, she is 35 years old, divorced, has breast cancer, and is not doing super great these days – but things are starting to look up! She will begin teaching Philosophy classes at the local community college in the Fall, and she has a great relationship with her 13 year old daughter Kylie. However one morning as Rachel is leaving for her doctor's appointment, she receives a phone call that chills her to the bone: Kylie was kidnapped at the bus stop. And in order to get her daughter back, Rachel must kidnap a child herself.
All I'm saying is, if you tell me you can put this book down after that description, you are not a mere mortal. The ending was weak for me which is why I gave it just 3 stars, but this was a fascinating book and I ate it up.
Mortal See, Mortals Do
Name a book with non-human character interacting with human characters
Hello, a chance to yell about The Broken Girls again!
We flip-flop between two timelines during The Broken Girls – 2014, and 1950 – but stay in the same place: Barrons, Vermont. Home of Idlewild – a boarding school initially built in the early 1900s for wayward girls (aka girls born out of wedlock, girls with mental illnesses, girls whose families just plain didn't want them any more). But that boarding school was built on top of land once owned by the Hand family, and one particular member of the Hand family – a young woman named Mary, who the students swear was buried in the Idlewild garden along with her baby – just won't stay dead and gone.
Mary Hand's spectre haunts not just the girls in this story – from 1950 and 2014 both – but she haunted me, too. I got goosebumps reading about her, and she delighted me. This entire book is a delight, and while it has supernatural influence it is really an amazing commentary on what society does to those who are "other," and it has stuck with me all year.
Luke Helps Save the Day
Name a character you thought was bad but ended up having redeeming qualities
It took me 1,000,000 years to get into Throne of Glass (OK, more like 3 false starts, but anyway) because I just could not stand Celaena's character. I am now, however, proudly about halfway through Heir of Fire and I would step in front of a bus for her. Throne of Glass is Maas's first book and you can definitely tell she was younger when she wrote it – it reads like something I wrote when I was in high school, the plot was predictable, I just couldn't. But now? Step on me.
An Evil Force is at Work in Halloweentown, We Have to Put Merlin's Talisman in the Giant Pumpkin to Save Everybody
Name your favorite fictional villain and hero
It doesn't quite count, but I am going for the dark academia triple play, OK? Everyone in this book is morally grey and that is my favorite kind of character. The setting is lush, the ending is mind-blowing, and I am languishing waiting for news on book two. This is one of my favorite books of all-time, period, and Alex Stern is an absolute unit.
Halloweentown is Saved
Name a book with a really satisfying ending
Make that a dark academia … quadruple play? What comes after a hat trick, 1/3 of the next hat trick? Anyway, Johnson's Truly Devious trilogy wrapped up flawlessly and I had every question answered, which is a rarity. I truly loved this series about Stevie and the dark secrets behind Ellingham Academy, and I am so excited to see a bonus book set in this world coming out in 2021 – we deserve it, frankly.
What did you think? Have you read any of these, or do you have your own to provide? I'm always happy to chat about things, apparently especially if those things are dark academia. Today I learned I have a type!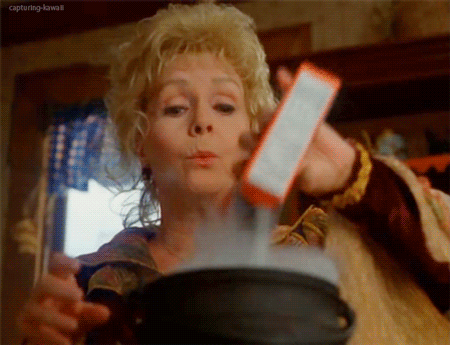 Happy Halloween!